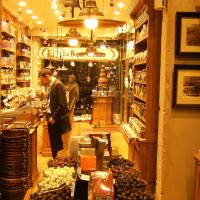 When the Spanish conquistadors returned from deepest South America with shiploads of cocoa beans, they did their best to keep their dark gold to themselves, but chocolate production nevertheless appeared in several places. It is no surprise that it happened here: the Southern Netherlands were after all Spanish territory!
The price of the finished product dropped dramatically over the course of the nineteenth century due to increasing industrialisation. And again this was not surprising in these parts – with Brussels being called the 'Manchester of the Continent'.
Chocolate was a prominent presence at Expo '58, and the arrival of Nato and the European institutions attracted vast numbers of foreigners, all of whom wanted to buy chocolate to take home.
Today chocolate is everywhere and there are numerous shops of Belgian chocolates and 'pralines' around the Grand-Place. Klare Lijn calls on a specialist in the field to tell you all about it.