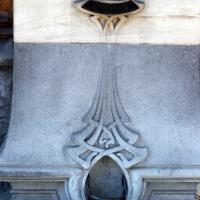 This walk takes place just outside the city centre, around the prestigious Avenue Louise neighbourhood.
In 1893 Victor Horta designed a first building demonstrating a totally new form and style. Other very wealthy clients then had buildings constructed in a similar style in the neighbourhood. Van Rysselberghe and Van de Velde both built for Otlet, Hankar built for himself and for fellow artists, de Lestré tended more towards Jugendstil. Solvay called upon Horta, whose own home/studio attracts a great many visitors today. Our guide aims to give a picture of Brussels at the turn of the twentieth century …
This walk can be combined with a (guided) visit to the Horta museum on request. The museum is open for group visits in the mornings.