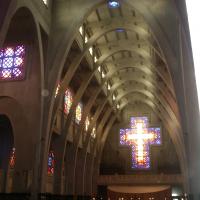 The former port of Brussels was bombarded 'new residential area' at the beginning of the 20th century.
After the Great War, the fashionable Art Deco style was used in many new buildings that were erected. We've made a selection for you in the centre of the city, in a neighbourhood where priority was once given to industrial activities.
During this tour we focus not only on Art Deco, but also on Modernism, which is rampant in this area of Brussels.
In so far as is possible the tour will include visits to several interiors, such as the Church of St. John the Baptist for example, which was designed by the architect Joseph Diongre and can be found just across the canal in Molenbeek.