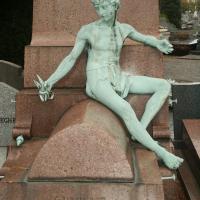 Every commune in Brussels has at least one cemetery. Some are better known than others.
The majority of the cemeteries originated around the middle of the 19th century. At that time, the bourgeoisie spent a fortune on their final resting places, commissioning well-known architects and artists to design worthy monuments.
Under the expert guidance of our guides the dead come back to life. We take you around the beautiful monuments, with explanations on the materials used, the rich symbolism and, of course, the inevitable 'who's who'.
Klare Lijn offers walks around the following cemeteries:
– Brussels (Evere)
– Brussels (Laeken)
– Ixelles
– Molenbeek
– Schaerbeek
– Saint-Gilles
– Saint-Josse
– Uccle (Dieweg)