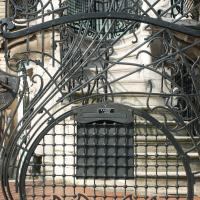 At a time when the neo styles (neo-gothic, neo-renaissance etc.) were very popular in many Belgian towns, the architect Victor Horta launched a totally new form and style in 1893: Art Nouveau. Architects such as Hankar, Van de Velde and Van Rysselberghe were also using progressive ideas in their architecture.
Klare Lijn offers various walks in distinct neighbourhoods of the city. Our guides aim to give a picture of Brussels at the turn of the twentieth century. It is possible for the walks to be combined with a visit to some interiors.
A walk in the neighbourhood of the Avenue Louise, where the style first appeared, could therefore begin or end with a visit to the wonderful Horta museum (only open to groups in the mornings).
A tour on and around the Avenue Louis Bertrand in Schaerbeek can be complemented with a visit to the Autrique House (built by Horta), or maybe to the Ecole Communale n° 1, designed by the architect Henri Jacobs.
There are also 'forgotten masters' to be discovered with walks in the heart of Saint-Gilles or in the neighbourhood of the romantic Etangs d'Ixelles (ponds). There is also the so-called North-East district, where you can marvel over buildings that are in the 'too much is too much' style, as well as over architecture that features on the Unesco World Heritage list.