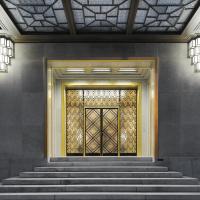 In the period between the First and Second World Wars, many buildings were constructed in the Brussels area in the Art Deco style.
Our guides have devised various walks which offer you plenty of examples of both Art Deco and its counterpart, Modernism.
At the beginning of the 20th century, the old port in the centre of the city was bombarded 'new residential area'. On request this walk can be combined with a visit to the spectacular Church of St. John the Baptist, designed by the architect Diongre and situated just over the canal in Molenbeek.
One of the walks goes along Avenue Moliere in Uccle, with examples of creations by Damman, Dewin or the highly acclaimed Van de Velde.
New estates grew up in this same commune around the Avenue Coghen, with wonderful examples of both Art Deco and Modernism …
Every Belgian also 'knows' the Basilica of Koekelberg. But how many people have actually ever visited it? Beautiful Art Deco houses were also built in the neighbourhood, alongside the Elisabeth Park.
The area around the university also saw considerable building activity after the First World War. Architects such as Damman, Dewin, Van de Velde, Blomme and Colli all vied with each other to design the most beautiful buildings. The main prize however would have to go to Polak, who designed the private residence of Baron Empain – a superb property that can also be visited on request!