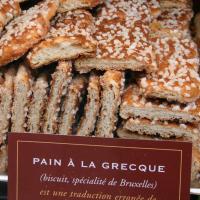 Indien u voor deze gidsbeurt kiest, doet Klare Lijn aan werken van barmhartigheid : de dorstigen laven en de hongerigen spijzen.
Brussel heeft een enorm rijk culinair aanbod, en daar mogen we van proeven. Enkel voor de liefhebbers : caricollen, ettekeis, geus, bloempanch en cervela. Maar eveneens kwaliteitspralines, sterrenkoffie en speculoos of bruud van de grecht (pain à la greque). Eerst blabla, en dan mjamjam !
Voor deze rondleiding komt, bovenop de prijs voor de gidsing, ook de kost van de proevertjes. Spreek vooraf goed af welk budget je hiervoor voorziet, en wat je beslist wil proeven of niet.